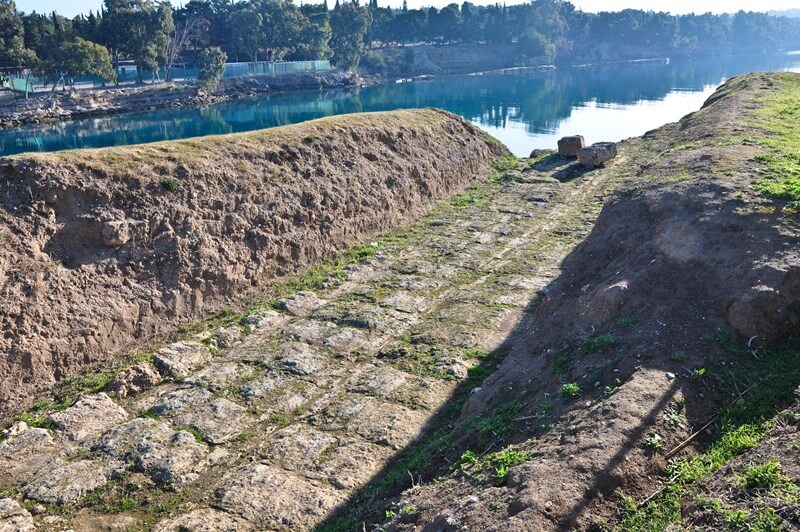 Isthmus Diolkos
The inventive Corinthians realized from a very early age – perhaps from the 9th century BC – that the importance of the Isthmus, beyond a defensive line, was very important for navigation and in particular that the small width of the Isthmus could allow ships to pass through. one sea to another (from the Corinthian Gulf to the Saronic Gulf and vice versa) and to facilitate East-West communication, eliminating the dangerous and extremely distant route of the Peloponnese and the Cape of Malea.
In this context, with the well-known ingenuity, diligence, intelligence and knowledge of engineering, they began to build a corridor across the Isthmus that started from the current area of ​​Poseidonia and ended at Schiounountas (today's Kalamaki), without following a straight path. to avoid large uphills and downhills that would strain the executors of the ship's tow. This treadmill was named Diolkos and was the world's first fixed-track vehicle.
As can be seen from the excavations carried out by the famous archaeologist Nikos Verdelis (which were essentially stopped), from 1956 to 1962, Diolkos took the form that exists to this day from Periandros, who built it with large, stone, stone slabs, which had two grooves in the middle, which were about 1.50 m apart. and aimed to make the "tugs" (of the vehicles where the ships were loaded) safer and faster.
Diolkos remained in operation for 1600 years and until 1154, according to a map by the Arab geographer Edresi.
In the following video, the film, through animation, presents the ancient Diolkos:
Παραγωγή: Τεχνικό Επιμελητήριο Ελλάδας σε συνεργασία με την Εταιρεία Μελέτης Αρχαίας Ελληνικής Τεχνολογίας.
Δημιουργοί: Θ.Π. Τάσιος, Ν. Μήκας, Γ. Πολύζος