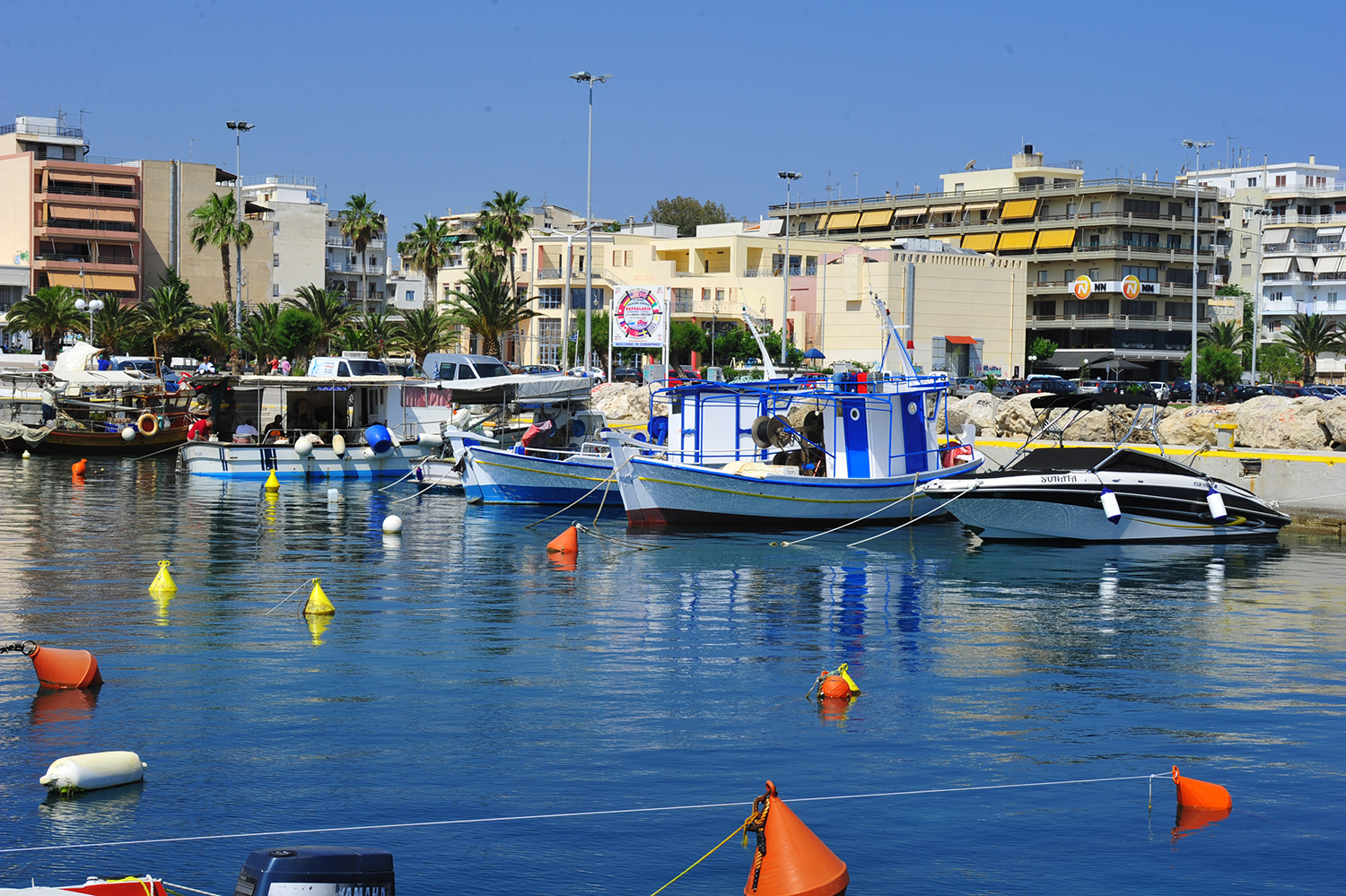 Eleftherios Venizelos Square (Floisvos) – Coastal front of Ag. Nikolaou
The main coastal road of Corinth is dedicated to Archbishop Damaskinos. The Military Club, the Municipal Theatre and the University of the Peloponnese are located on Damaskinos street.
Starting from the port, you can take a walk to Eleftherios Venizelos Square (Floisvos, Corinth) and take photos with a background of tall palm trees and the modern fountain with the impressive statue of Pegasus, the winged horse that until today is the emblem of the Municipality of Corinth. Overlooking the Corinthian from this point of the city, your gaze will reach Loutraki which is located directly to the opposite.
A little further down in the fishing shelter, you will gaze at the colourful fishing boats. If you go early in the morning, you will see locals fishing fish and seafood from the Corinthian gulf, which, according to them, are the most delicious you have ever tasted. Picturesque images that take you to a previous era full of authenticity.
Next to it is the bust of Captain Miltos Iatridis, captain of "Papanikolis" submarine "originally from Sofiko, Corinth. Opposite, lies the modern building which houses the Historical Folklore Museum of Corinth. Currently being under thorough reconstruction, it will soon again offer its visitors a new perspective on the approach of local history and modern heritage, using modern digital technology. Next to the Museum stands the imposing statue of Hercules.
On the east side of the port lies the church of Aghios Nikolaos built in Byzantine architecture. Until the earthquakes of 1928 that devastated Corinth, the Temple was made of stone and was located in the area where it is today. Enjoy a coffee or ouzo in the cool shade of the pines, breathing the aura of the Corinthian Gulf.
This is where the coastal front of Aghios Nikolaos begins, a place for walking, cycling and exercising sports for the young and the old that extends to Poseidonia. In the afternoon, when the sun goes down, people take their evening stroll. If you continue for a few more meters, you will find yourself in the famous Corinth Canal, right before the sinking bridge that connects Corinth with Loutraki. The bridge of Poseidonia, as it is called, bears a lot of traffic since the inhabitants of the two cities prefer to take this route, since it is shorter than taking the national highway and crossing the bridge over the Canal
The sinking bridge also attracts lots of tourists who eagerly await for it to sink in order for a ship to cross the Corinth Canal and then emerge again.